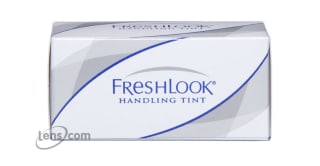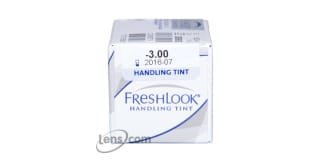 FreshLook Handling Tint
3 Month Supply

$39.99

$53.00 You Save $13.01

$35.99 Buy 4+ per eye $53.00 You Save $17.01
Choose Quantity & Enter Prescription for Right and Left Eye
Prescription Information:
OD

right eye

OS

left eye

Brand name

eg. Acuvue

BC / Base Curve

a number between 8.0 and 10.0

DIA / Diameter

a number between 13.0 and 15.0

Power / Sphere / Rx

a number between -20 and +20
In Addition for astigmatic patients:
Cylinder

a number between -4.00 and +4.00

Axis

a number between 0 and 180

Cylinder and Axis are usually separated by a x
For Multifocal, Bifocal lenses or Presbyopia:
"Addition" or "add" is usually preceded by "+" or is listed as "low", "mid" or "high" depending on the lens manufacturer.
MONEY BACK GUARANTEE Complete Details

HASSLE FREE RETURNS Complete Details
FreshLook Handling Tint

Reviews
8 people found the following review helpful:
Good quality , no complaints.
I used to use Freshlook color blends but wanted to return to my normal eye color. I transitioned to these easy and with no problems! I have no complaints about this brand.
7 people found the following review helpful:
this brand
These are my favorite brand of contacts. I keep hearing they will be discontinued and I hope that doesn't happen. They are most comfortable and last the longest at least for me.
11 people found the following review helpful:
These are the best lenses
I have been wearing these lenses for years and love them.
11 people found the following review helpful:
Rips
I only had my contacts for 2 weeks and I'm only down to 1 in my left eye box they all rip
11 people found the following review helpful:
All was good with order
Product is great and received within shipping window.
FreshLook Handling Tint are GREAT to wear
FreshLook Handling Tint are like almost wearing nothing. The colors are very natual looking. They give me great vision and are so comfortable
The only contact lenses I'll ever need!
When I first started wearing contact lenses my optometrist recommended the Freshlook Handling Tint because they are easy to clean and put in my eyes. They are very easy to deal with and they are very comfortable as well so I have worn them ever since. They meet my vision need and they feel great so there in no reason to switch from them!
ABSOLUTLY AMAZING!!!!!!!!
I have been wearing Fresh look for several months now and they are AMAZING....although it takes a week or so to get use to them as a 1st time contact lense wearer I have to say they do a great job vision wise and are very discret!!
Product Information
With contact lenses, you can easily avoid uncomfortable situations where glasses just get in the way. Whether your glasses keep people from noticing your impeccable eye make-up or just plain give you headaches, contact lenses are a convenient and cost-effective alternative to eyeglasses. However, for some, the downside of contacts can be the upkeep—after all, they'll need to be put in, taken out, cleaned, and replaced.
Since contact lenses are so clear they often blend in with the disinfecting solution. Contact lens wearers, especially those who need corrective lenses to see up close, may find themselves fishing in the solution for their lens. Contacts can also be tough to spot on the tips of fingers or, if dropped, on the floor or bathroom counter. If these situations have you thinking about switching back to glasses, don't give up just yet. FreshLook Handling Tint contact lenses by Alcon are made especially for combatting these issues.
You may already be familiar with the FreshLook name, as they're known for their line of natural looking color lenses that have given millions the opportunity to alter the color of their eyes. However, some contact lens wearers aren't interested in adjusting their eye color. For those who want vision correction without changing their natural hue, there is still a FreshLook option. The color tint in FreshLook Handling Tint contacts is only there to make contact lens care easier. The tinting is subtle and will not change eye color when the lens is in place.
In addition to handy tinting, FreshLook Handling Tint lenses are manufactured with comfort and convenience in mind. With a water content of 55 percent, these tinted contact lenses are easy to insert and will stay comfortable throughout the day. They also have an indicator to show when lenses are inside out, so that users won't have to deal with the discomfort of an incorrectly inserted lens. FreshLook Handling Tint lenses are 1-2 week disposable contact lenses. This schedule is an advantage for those whose eyes get easily irritated or those who struggle with allergies. Weekly contact lenses and bi-weekly contact lenses are worn for such a short amount of time that there's little chance for allergens and other deposits to build up on lenses and irritate eyes.
If you're looking for a lens that is high on convenience and comfort, look no further than FreshLook Handling Tint. These lenses incorporate a host of benefits that take the guesswork out of wearing contact lenses. When you're ready to order, be sure to browse the prices at Lens.com. With hassle-free returns, 100% money-back satisfaction, and quick shipping, you can't go wrong with purchasing your contact lenses from Lens.com.
Product Availability
In stock - Orders normally ship within 1-2 Days
Price Comparison
| Our Lowest Price | Retail Price | Your Savings |
| --- | --- | --- |
| $35.99 | $53.00 | $17.01 |
Material Content
45% Polymer (phemfilcon A)