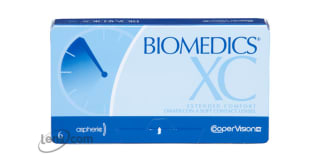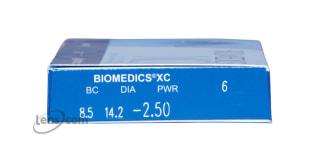 Biomedics XC
3 Month Supply

$23.99

$33.00 You Save $9.01

$20.99 Buy 4+ per eye $33.00 You Save $12.01
Choose Quantity & Enter Prescription for Right and Left Eye
Prescription Information:
OD

right eye

OS

left eye

Brand name

eg. Acuvue

BC / Base Curve

a number between 8.0 and 10.0

DIA / Diameter

a number between 13.0 and 15.0

Power / Sphere / Rx

a number between -20 and +20
In Addition for astigmatic patients:
Cylinder

a number between -4.00 and +4.00

Axis

a number between 0 and 180

Cylinder and Axis are usually separated by a x
For Multifocal, Bifocal lenses or Presbyopia:
"Addition" or "add" is usually preceded by "+" or is listed as "low", "mid" or "high" depending on the lens manufacturer.
MONEY BACK GUARANTEE Complete Details

HASSLE FREE RETURNS Complete Details
7 people found the following review helpful:
Easy quick ordering, delivery fast
Love these lenses and love using lens.com for my purchases. Ordering is quick and easy and fast shipment.
11 people found the following review helpful:
Great Lenses But Discontinued
These lenses were great, but they have been discontinued by manufacturer.
128 people found the following review helpful:
Very pleased with my Biomedics XC contacts
Wearing Biomedics XC contacts for a week or 2 is the perfect duration to wear contacts. I love how easy it is to switch them out, and pop them right back in.

131 people found the following review helpful:
Biomedics XC so cheap
Being able to buy Biomedics XC lenses at the price I did was a great feeling. Who doesn't love low prices?

130 people found the following review helpful:
Biomedics XC are comfortable all day long
My daughter had constantly complained about dry eyes before switching to Biomedics XC contacts. To my relief, she no longer has any problems and is comfortable all day long.
129 people found the following review helpful:
Very imrpessed ordering my Biomedics XC
Great price on these Biomedics XC contacts! The service here was also very helpful, and had my lenses delivered in no time.

128 people found the following review helpful:
Biomedics XC are perfect for my hardcore life
My active lifestyle demands that I have a contact lens that is able to make it through the day, no matter what. Biomedics XC lenses have been able to do this, and will continue to do so as long as I wear them.

130 people found the following review helpful:
only contacts I wear
These are the only contacts I have ever worn that have felt like there is nothing in my eye. Other brands I have tried had claimed that their contacts would feel this way, but that is not the case with all of the ones I have previously worn. Biomedics XC contacts will always feel great.

128 people found the following review helpful:
never disappointed ordering my lenses here
I have been a customer of Biomedics XC lenses for some time now. I bought these here because the service is awesome and my contacts always come in on time.

137 people found the following review helpful:
exceptional quality with Biomedics XC
These are easier to put in than other lenses, and they keep their shape and do not fold. There is never any itching with these lenses either, as they are very comfortable. I love my Biomedics XC contacts!

Product Information
Convenience and comfort are two major features that contact lens wearers seek when shopping for a new brand of contact lenses. Of course, they can't leave out vision correcting performance either; after all, it's the reason for wearing contact lenses in the first place. Luckily, Biomedics XC offers all of these features and then some more. Biomedics contact lenses, manufactured by the trusted eye care professionals at CooperVision, are truly cutting-edge corrective lenses. The lenses are made from phosphoryl choline — or PC for short. While the name may look and sound complicated, the reason for using this substance is actually quite simple. PC molecules are found in the cell membranes of humans, which makes Biomedics XC contact lenses highly compatible with the human eye.
PC material also does an amazing job of enveloping itself in moisture and maintaining that moisture throughout the day. This means that the eyes stay comfortable all day long. Those who work in dry environments or spend long days looking at computer screens can benefit greatly from the all-day moisture of Biomedics XC. Another reason to love Biomedics contact lenses is that they're aspherical contacts. If you haven't heard of aspheric lenses it's probably due to the fact that they're a relatively new concept. This type of lens was created to enhance sharpness and clarity. While traditional contact lenses have an overall spherical curvature, aspheric lenses have varying curvatures over the lens surface. This subtle graduation in curvature precisely focuses light coming into the eye.
Build-up on contact lenses can cause a lot of irritation for wearers. Since Biomedics XC are disposable contact lenses, there's little chance for build-up or protein deposits to cause irritation and discomfort. Biomedics XC are 1-2 week disposable contact lenses, which means each pair can be worn for 1 to 2 weeks before being replaced with a brand new pair. By following this simple routine, your eyes stay fresh, healthy, and comfortable. In addition, to keep irritation to an absolute minimum, the surface of Biomedics XC are designed to resist aggravating deposits.
If you're seeking comfortable and clear contact lenses that are less likely to cause irritation, then Biomedics contact lenses may be your new go-to contact lens. If you're also looking for the best value on your contact lenses then no look further — Lens.com regularly checks competitors' sites to ensure that we're giving our customers the best value. With hassle-free returns, 100% money-back customer satisfaction, and quick shipping, you can't go wrong with purchasing your contact lenses from Lens.com.
Product Availability
This item normally ships within 2-4 business days.
Price Comparison
| Our Lowest Price | Retail Price | Your Savings |
| --- | --- | --- |
| $20.99 | $33.00 | $12.01 |
Material Content
40% Polymer (omafilcon A)