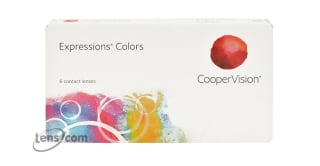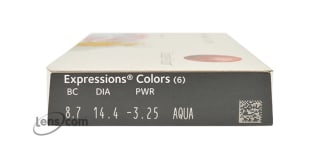 Expressions Colors
6 Month Supply

$71.99

$95.00 You Save $23.01

Buy 4 boxes for

$56.99 per

box

after rebate

See Details See Details
Choose Quantity & Enter Prescription for Right and Left Eye
Prescription Information:
OD

right eye

OS

left eye

Brand name

eg. Acuvue

BC / Base Curve

a number between 8.0 and 10.0

DIA / Diameter

a number between 13.0 and 15.0

Power / Sphere / Rx

a number between -20 and +20
In Addition for astigmatic patients:
Cylinder

a number between -4.00 and +4.00

Axis

a number between 0 and 180

Cylinder and Axis are usually separated by a x
For Multifocal, Bifocal lenses or Presbyopia:
"Addition" or "add" is usually preceded by "+" or is listed as "low", "mid" or "high" depending on the lens manufacturer.
MONEY BACK GUARANTEE Complete Details

HASSLE FREE RETURNS Complete Details
Expressions Colors

Reviews
5 people found the following review helpful:
Best ever
The contacts are very comfortable and reliable, and the company discontinued expressions, I don't know what to do, I have been wearing this brand for over 20 years, so disappointing
Expressions' color Cooper vision
Fast shipping, very good quality, the lens are very soft and comfortable, easy to ware, maybe would need more adherence because they move a little bit on the eyes.
Not comfortable
The color lens are really thick and not comfortable for all day wear. Will not order this brand again. Spent money for a product I cannot use.
Confianza
Very good material.
Color consistency and fit well
Loves lens.com

wonderful service
I love my contacts
Great Customer Service
Thank you for another quick delivery and excellent customer service! You guys are just so on it and i appreciate all your easy access help! Keep up the great service! Product is da BESTEST!!!
Get what you pay for
Considering the price, a good product. However, if you have dark eyes, the color hardly shows up and they don't align to my eyes quite right.
88 people found the following review helpful:
My eyes look completely new and always comfy
I can't get over how fun it is to wear Expressions Colors! I picked out something completely different than normal and impressed my friends! New people actually think I have that eye color! No redness or irritation either so I don't look weird at the end of the day.
96 people found the following review helpful:
really impressed with my new blue eyes
I have never worn contacts, but I tried these Expressions Color contact lenses to give me the blue eyes of my dreams. I have not been disappointed. They are very easy-to-use, give me distinct blue color and are always comfortable and hydrating!
Product Information
Sometimes itís fun to switch up your look. Sure, you could buy a new outfit or get a fresh haircut, but what if youíre looking for something a bit more out of the box? A new eye color may be just the thing. Expressions Colors are all about bringing out your personality through the color of your eyes. Eyes can really tell a story, and Expressions color contacts are the perfect choice for when you have something different to say.
Expressions Colors are made by CooperVision, who have been a staple in the eye care industry for quite a long time. This means that, unlike cheap costume or novelty lenses, Expressions Colors contacts are quality lenses that will keep your eyes safe and healthy. Since they can be ordered with or without a prescription, even those with 20/20 vision have the option to change the color of their eyes. So, whether you need correction for nearsightedness, farsightedness, or just want a fresh new look, Expressions Colors will deliver.
The cutting-edge design and advanced tinting technique used to create Expressions colored contacts makes the eye colors look incredibly realistic and vibrant. These are lenses that get people intrigued by the natural beauty of your eyes, and not leave them wondering about whether or not youíre wearing colored contacts. They come in eight intriguing shadesóblue, aqua, blue topaz, green, jade, green, hazel, and brown. No matter your unique taste or preference, youíre sure to find an eye shade that suits your style. In fact, having two, three, or even more color options on hand can be fun for those who like to keep people guessing.
Expressions Colors are comfortable, soft lenses that provide clear vision whether you require vision correction or not. With 55 percent water content, these lenses are sure to keep eyes feeling as good as they look. Since the FDA considers contacts to be medical devices, those with perfect vision who choose to wear Expressions color contacts solely to change the color of their eyes still need to be properly fitted by an eye care professional. Of course, those who need prescription lenses for nearsightedness or farsightedness can get Expressions Colors to suit their vision correction needs as well. Expressions Colors are monthly disposable contact lenses, so they are good for daily wear for up to 30 days before needing to be replaced. It is important to remove and clean your Expressions contacts each night to prevent any build-up or bacteria from causing irritation.
If you like your eye color but have always wanted to explore what you would look like with a different eye color, Expressions Colors can help. When youíre ready to give them a try, be sure to check out Lens.comís prices. By purchasing from Lens.com, you donít have to worry about shopping around for the best price, as we have done the work for you. With hassle-free returns, 100% money-back customer satisfaction, and quick shipping, you canít go wrong with purchasing your contact lenses from Lens.com.
Product Availability
This item normally ships within 4-7 business days.
Price Comparison
| Our Lowest Price | Retail Price | Your Savings |
| --- | --- | --- |
| $71.99 | $95.00 | $23.01 |
Material Content
45% Polymer (methafilcon A)