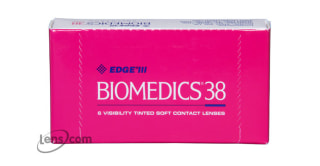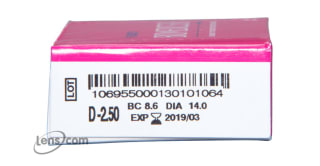 Sterling 38
3 Month Supply

$19.95

$24.00 You Save $4.05

$13.99 Buy 3+ per eye $24.00 You Save $10.01
Choose Quantity & Enter Prescription for Right and Left Eye
Prescription Information:
OD

right eye

OS

left eye

Brand name

eg. Acuvue

BC / Base Curve

a number between 8.0 and 10.0

DIA / Diameter

a number between 13.0 and 15.0

Power / Sphere / Rx

a number between -20 and +20
In Addition for astigmatic patients:
Cylinder

a number between -4.00 and +4.00

Axis

a number between 0 and 180

Cylinder and Axis are usually separated by a x
For Multifocal, Bifocal lenses or Presbyopia:
"Addition" or "add" is usually preceded by "+" or is listed as "low", "mid" or "high" depending on the lens manufacturer.
MONEY BACK GUARANTEE Complete Details

HASSLE FREE RETURNS Complete Details
144 people found the following review helpful:
My favorite contacts
The Sterling 38's are my favorite contacts. Very durable and they go a full two weeks for me.
146 people found the following review helpful:
Product Information
Sterling 38 contact lenses by Ocular Sciences are a store brand version of well-known brands Biomedics 38 and Ultraflex 38. Just like these brands, the lenses help to prevent diffusion of light rays on the retina to give you crisper, clearer vision in both high and low light settings. Sterling 38 contact lenses are composed of 62 percent polymacon, which ensures a comfortable, stable fit over the eyes so you can enjoy a consistent outlook. As its name suggests, the remaining portion of the lenses is composed of 38 percent water to keep eyes comfortably hydrated and moist throughout wear.
Sterling 38 contact lenses are tinted from edge to edge, which makes them easier to detect in solution and promotes user-friendly handling. This tint comes in four gorgeous colors that lens wearers can choose from, including Aqua, Sapphire, Emerald and Smoky Quartz. A 1-2 week replacement schedule ensures comfort and convenience for up to 14 days of wear with a fresh new pair. Experts recommend cleaning and storing after each use for optimal performance. This relatively short lifespan also prevents the likelihood of debris and deposit build-up, which leads to a healthier, more comfortable lens-wearing experience.
Product Availability
This item normally ships within 1 - 2 business days.
Price Comparison
| Our Lowest Price | Retail Price | Your Savings |
| --- | --- | --- |
| $13.99 | $24.00 | $10.01 |
Material Content
62% Polymer (polymacon)