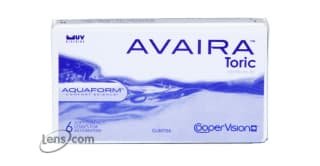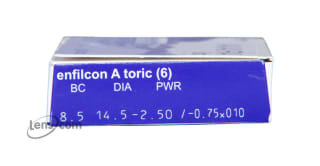 Sofmed Breathables Toric
3 Month Supply

$32.95

$51.00 You Save $18.05

$29.99 Buy 3+ per eye $51.00 You Save $21.01
Choose Quantity & Enter Prescription for Right and Left Eye
Prescription Information:
OD

right eye

OS

left eye

Brand name

eg. Acuvue

BC / Base Curve

a number between 8.0 and 10.0

DIA / Diameter

a number between 13.0 and 15.0

Power / Sphere / Rx

a number between -20 and +20
In Addition for astigmatic patients:
Cylinder

a number between -4.00 and +4.00

Axis

a number between 0 and 180

Cylinder and Axis are usually separated by a x
For Multifocal, Bifocal lenses or Presbyopia:
"Addition" or "add" is usually preceded by "+" or is listed as "low", "mid" or "high" depending on the lens manufacturer.
MONEY BACK GUARANTEE Complete Details

HASSLE FREE RETURNS Complete Details
Sofmed Breathables Toric

Reviews
62 people found the following review helpful:
Sofmed gives me all-day relief from irritations
These contacts are great! Sofmed Breathables Toric have a special way of getting oxygen to your eye so that your eyes feel comfortable and healthy all day long. I noticed I can wear my contacts for longer now with less irritation.

56 people found the following review helpful:
Sofmed Breathables lenses beat all expectations!
I enjoy how normal my eyes feel with Sofmed Breathables Toric. These contacts feel like I'm not wearing any, and my eyes feel breezy, hydrated and best of all aren't red! If you have problems with eye irritation, definitely try these!

57 people found the following review helpful:
Never realized my old contacts didn't fit right
Sofmed Breathables Toric are an excellent contact! My doctor switched me over to them when other Toric lenses were still giving me trouble with my astigmatism. These fit perfectly on my eye and didn't cause irritation!
164 people found the following review helpful:
highly comfortable lenses
Sofmed breathables toric lenses are simply the most comfortable contacts I've ever worn,

167 people found the following review helpful:
very high quality and affordable
I had been wearing another contact that was tearing quite often. I asked my doctor about it and he told me to try sofmed breathables toric contacts. I find these to be very high quality and I even saved a few bucks.

167 people found the following review helpful:
really excellent lenses
About 4 years ago I made the switch to Sofmed breathables contacts. I wouldn't have it any other way - I really like the fit and the durability of this product.

161 people found the following review helpful:
Pleased with my lenses and service
I have no complaints on the Sofmed breathables toric it took only 5 days to get to my home. I think the pricing is great and I know they fit well on me.

122 people found the following review helpful:
Great service and great value
Customer service here was great. I wasn't sure what to do with my Sofmed Breathables contact lens prescription but was able to get the help I needed. Thanks

128 people found the following review helpful:
Great comfortable lenses
My eyes - and me - are pretty finicky when it comes to contacts. I got a prescription for sofmed breathables last year and I think I've finally found the right fit. Give these a try!

127 people found the following review helpful:
Product Information
Astigmatism is a condition that affects a large portion of the population. The eye condition can cause affected individuals to see blurry or distorted images. Having astigmatism means that the lens of the eye, which regularly is spherically shaped, is actually elongated. The round shape is important in that it allows the light coming through the eye to bounce off the retina on a precise spot. The elongated lens shape causes the light to hit the retina on multiple points, resulting in the fuzzy vision that many people with astigmatism experience.
Not everyone with astigmatism struggles with vision issues, though. When the condition is only slight, it causes little to no vision problems. However, for those with higher level astigmatism, corrective lenses are required. Glasses are an option, but for people who prefer an unencumbered look, toric contact lenses are specifically designed and available for those with astigmatism. The generally accepted drawbacks of toric lenses are cost and discomfort. Sofmed Breathables Toric are made by trusted eye care brand, CooperVision, and adeptly address both of these issues. These lenses have a lot of technological advancements built into them, yet come at a very reasonable price.
Each Sofmed Breathables Toric contact lens has a wide ballast and a uniform horizontal thickness. These features combine to create toric lenses that reduce lens rotation and help keep vision stable. Sofmed Breathables' advanced fit that conforms to wearers' eyes keeps vision consistent. This is very important for those with astigmatism. All-day comfort is another big consideration when assessing the performance of toric lenses. Sofmed Breathables are made from a moisture-locking material. Not only are they 46 percent water, but they also attract and lock in moisture, keeping them comfortable all day long. In addition, these lenses are made to be highly breathable, which is another big plus. But more importantly, these lenses help keep your eyes healthy and clear.
Like other contact lenses in the CooperVision line, Sofmed Breathables Toric have a UV blocker incorporated into the lens. This feature offers extra protection to the portion of the eye covered by the contact lens. UV blocking sunglasses or goggles should still be worn to fully protect the rest of the eye. Sofmed Breathables Toric are 1-2 week disposable contact lenses, so they can be worn daily for up to 14 days. After this amount of time they can simply be discarded and replaced with a fresh new pair. Weekly contact lenses and bi-weekly contact lenses such as Sofmed Breathables Toric promote eye health as there is not a lot of time for deposits to accumulate on lenses and cause irritation.
If you're looking for high-quality toric contact lenses that will not break the bank, Sofmed Breathables Toric may be right for you. With hassle-free returns, 100% money-back customer satisfaction, and quick shipping, you can't go wrong with purchasing your contact lenses from Lens.com.
Product Availability
This item normally ships within 5-8 business days.
Price Comparison
| Our Lowest Price | Retail Price | Your Savings |
| --- | --- | --- |
| $29.99 | $51.00 | $21.01 |
Material Content
54% Polymer (enfilcon A)