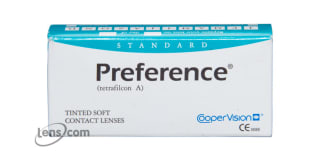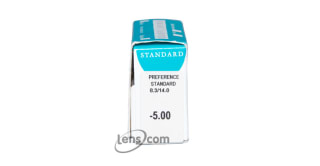 Preference Standard (Blue Box)
12 Month Supply

$70.99

$80.00 You Save $9.01

Buy 4 boxes for

$60.95 per

box

after rebate

See Details See Details
Choose Quantity & Enter Prescription for Right and Left Eye
Prescription Information:
OD

right eye

OS

left eye

Brand name

eg. Acuvue

BC / Base Curve

a number between 8.0 and 10.0

DIA / Diameter

a number between 13.0 and 15.0

Power / Sphere / Rx

a number between -20 and +20
In Addition for astigmatic patients:
Cylinder

a number between -4.00 and +4.00

Axis

a number between 0 and 180

Cylinder and Axis are usually separated by a x
For Multifocal, Bifocal lenses or Presbyopia:
"Addition" or "add" is usually preceded by "+" or is listed as "low", "mid" or "high" depending on the lens manufacturer.
MONEY BACK GUARANTEE Complete Details

HASSLE FREE RETURNS Complete Details
Preference Standard (Blue Box)

Reviews
77 people found the following review helpful:
I think Preference Standard are a great savings!
I'm so glad I switched to Preference Standard. I was using other contacts that tore easily and didn't last as long, so the fact that these were more durable was a plus. Not having to change to new contacts every week also saves me lots of money.
76 people found the following review helpful:
Very happy with my Preference Standard lenses
My doctor recommended that I purchase these Preference Standard contact lenses, and I am very happy that I listened. My eyes have never been more comfortable, and my vision is clearer than ever!
90 people found the following review helpful:
All good from day 1 to 30
I really love the fact that Preference Standard lasts and entire month before I need new contacts. They work great the entire time, don't tear and my vision and eyes feel great from day one to day thirty! Love these contacts!
87 people found the following review helpful:
Preference Standard has many great qualities
The tinting on Preference Standard is really nice and convenient. It makes it easy to find them in the mornings when putting on my contacts, and I didn't notice any problems with color changes to my eyes, or irritation from the tint!
86 people found the following review helpful:
Preference Standard lenses work well for me
After years of trying different contact, I have finally found a pair that works for me! These Preference Standard contact lenses keep my vision crystal-clear without irritating my eyes!
90 people found the following review helpful:
Preference Standard is my go-to lens
Preference Standard is my go-to choice of contacts! They are very comfortable and the fact that they last an entire month means I'm saving time and money. I can just grab them out of their cleaning solution and go about my day without having to worry about new contacts!
103 people found the following review helpful:
All day long comfort with Preference Standard
If you are looking for contact lenses that keep you comfortable all day long, these Preference Standard contact lenses are just right for you! I wear them all day, every day with no irritation or discomfort.

VERY COMFORTABLE AND DURABLE
I have been wearing Preference Standard contact lenses for about 10 years and find them so comfortable you do not even know you have a lens in your eye.

I also like the fact they do not fall out unexpectedly.
Haven't found anything better
The Preference Standard contact lenses were the first contact lenses that I ever wore and I have been wearing them ever since. I have never had any reason to switch to another contact lens. I have tried some trial pairs that my doc has hooked me up with but none of them are good enough to switch to. I guess I just got lucky right from the get go.
Preference Standard are best monthlies
I think that the Preference Standard monthly disposable contact lenses are the best monthlies out there. I have always stuck with monthly disposables and these are the best of the pack. You can say goodbye to dry eyes when you put these on. They are very easy to handle and care for as well so that another plus.
Product Information
You've got too much going on to worry about uncomfortable contact lenses, so make sure you choose a pair that won't quit before you do. Every day, more and more people are enjoying the superior comfort and vision quality of Preference Standard, a quarterly disposable contact lens manufactured by CooperVision. Read the 4- and 5-star reviews below, and youíll see that wearers of Preference Standard contact lenses praise them highly for their comfort, convenience, and clarity.
Made of tetrafilcon A, Preference Standard contact lenses are approved for extended wear of up to 90 days, which means they can be worn without removing, cleaning, and disinfecting for three months. Of course, this wear schedule depends on the recommendation of an eye-care professional. There are several reasons to choose these quarterly contacts. Preference Standard lenses are the perfect choice if you need the flexibility and convenience of wearing contacts overnight or for days at a time when your schedule is hectic. For those who primarily wear eyeglasses and only wear contacts every once in a while, Preference Standard is also a great option. In this case, daily or weekly disposable contact lenses would be less beneficial because of the increased cost and waste. And last but not least, Preference Standard lenses are tinted for ease of handling. This tint will not change the color of your eyes, as itís simply designed to facilitate locating the contact lenses in solution.
As comfortable and convenient as these extended-wear quarterly contacts are, wearers must take several precautions. Besides following the cleaning instructions and wear schedule determined by your eye-care professional, you must not wear them if your eyes are irritated, infected, or injured or during any allergic reactions to solutions or drops. Furthermore, having extended-wear contacts may require more frequent checkups to maintain healthy eyes. Wearing them heightens the risk of ulcerative keratitis, which increases with how many days in a row contact lenses are worn between removals.
Have you already consulted with your eye-care professional about Preference Standard contact lenses and have your prescription handy? Then buy these quarterly contact lenses from Lens.com, where youíll get the absolute best value in contact lenses, whether you look elsewhere online or in stores. With hassle-free returns, 100% money-back customer satisfaction, and quick shipping, you canít go wrong with purchasing your contact lenses from Lens.com.
Product Availability
This item normally ships within 4-7 business days.
Price Comparison
| Our Lowest Price | Retail Price | Your Savings |
| --- | --- | --- |
| $70.95 | $80.00 | $9.05 |
Material Content
57% Polymer (tetrafilcon A)