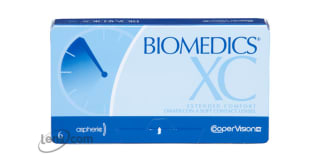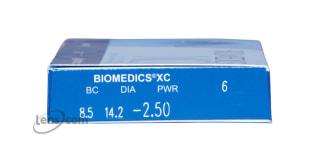 Procon XC
3 Month Supply

$15.95

$22.00 You Save $6.05

$13.99 Buy 4+ per eye $22.00 You Save $8.01
Choose Quantity & Enter Prescription for Right and Left Eye
Prescription Information:
OD

right eye

OS

left eye

Brand name

eg. Acuvue

BC / Base Curve

a number between 8.0 and 10.0

DIA / Diameter

a number between 13.0 and 15.0

Power / Sphere / Rx

a number between -20 and +20
In Addition for astigmatic patients:
Cylinder

a number between -4.00 and +4.00

Axis

a number between 0 and 180

Cylinder and Axis are usually separated by a x
For Multifocal, Bifocal lenses or Presbyopia:
"Addition" or "add" is usually preceded by "+" or is listed as "low", "mid" or "high" depending on the lens manufacturer.
MONEY BACK GUARANTEE Complete Details

HASSLE FREE RETURNS Complete Details
Product Information
Ocular Sciences presents an inexpensive solution to end-of-day dryness with innovative Procon XC contact lenses. The lenses feature advanced PC technology, which is composed of molecules found naturally in human cell membranes. These molecules are naturally inclined to build their surroundings out of water, which keeps your eyes supremely hydrated and healthy so you can leave your eye drops at home. To further promote exceptional moisturizing power, the lenses are composed of 60 percent water to give your eyes a comfortable feeling no matter how dry your surroundings might be.
To complete the composition of Procon XC contact lenses, a 40 percent polymer component called omafilcon A adds exceptional stability to your wear by conforming to the unique shape of your eyes. The lens design doesn't just stop at comfort-it also ensures a consistently clear view, since each pair of lenses is designed according to the unique parameters of your prescription. After the 1-2 week replacement schedule, simply replace your lenses with a new pair to eliminate the likelihood of debris and deposit build-up and ensure a high standard of quality. To maintain the lenses in the meantime, eye care professionals recommend daily cleaning and storing until up to 14 days of wear.
Product Availability
This item normally ships within 2-4 business days.
Price Comparison
| Our Lowest Price | Retail Price | Your Savings |
| --- | --- | --- |
| $13.99 | $22.00 | $8.01 |
Material Content
40% Polymer (omafilcon A)