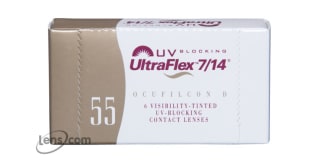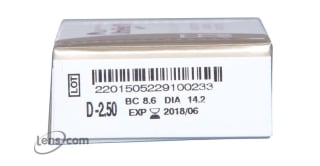 Optiform 55
3 Month Supply

$15.95

$24.00 You Save $8.05

$13.99 Buy 4+ per eye $24.00 You Save $10.01
Choose Quantity & Enter Prescription for Right and Left Eye
Prescription Information:
OD

right eye

OS

left eye

Brand name

eg. Acuvue

BC / Base Curve

a number between 8.0 and 10.0

DIA / Diameter

a number between 13.0 and 15.0

Power / Sphere / Rx

a number between -20 and +20
In Addition for astigmatic patients:
Cylinder

a number between -4.00 and +4.00

Axis

a number between 0 and 180

Cylinder and Axis are usually separated by a x
For Multifocal, Bifocal lenses or Presbyopia:
"Addition" or "add" is usually preceded by "+" or is listed as "low", "mid" or "high" depending on the lens manufacturer.
MONEY BACK GUARANTEE Complete Details

HASSLE FREE RETURNS Complete Details
Product Information
Also sold under the names Biomedics 55 and Ultraflex 55, Optiform 55 contact lenses offer equal comfort and clarity at a lower price. As the name implies, Optiform 55 lenses are made from a flexible polymacon material that conforms to the unique shape of your eyes for a stable, customized fit. The remaining portion of the lenses is made from 55 percent water, which hydrates the eyes for a refreshingly moist feeling from insertion to removal.
Optiform 55 lenses are specially designed to eliminate spherical aberration, which is a blurry visual effect that is caused by the eye's inability to properly focus light on a common point. Wearers with a wide range of conditions can count on full focus and clearer vision. A thinner, patented edge design slides in easily and offers superior comfort throughout wear. Optiform 55 contact lenses feature advanced UV-blocking protection, which acts as a shield for the covered portion of your eyes against the potentially damaging effects of sun exposure.
A 1-2 week disposable replacement schedule is easy to maintain and reduces the likelihood of deposit build-up, which helps to prevent irritation for the perfect balance of comfort and convenience.
Product Availability
In stock - Orders normally ship same day if ordered by 2 PM CST
Price Comparison
| Our Lowest Price | Retail Price | Your Savings |
| --- | --- | --- |
| $13.99 | $24.00 | $10.01 |
Material Content
45% Polymer (polymacon)