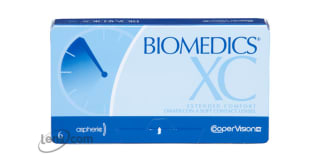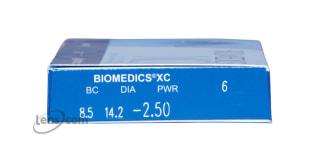 Mediflex XC
3 Month Supply

$15.95

$22.00 You Save $6.05

$13.99 Buy 4+ per eye $22.00 You Save $8.01
Choose Quantity & Enter Prescription for Right and Left Eye
Prescription Information:
OD

right eye

OS

left eye

Brand name

eg. Acuvue

BC / Base Curve

a number between 8.0 and 10.0

DIA / Diameter

a number between 13.0 and 15.0

Power / Sphere / Rx

a number between -20 and +20
In Addition for astigmatic patients:
Cylinder

a number between -4.00 and +4.00

Axis

a number between 0 and 180

Cylinder and Axis are usually separated by a x
For Multifocal, Bifocal lenses or Presbyopia:
"Addition" or "add" is usually preceded by "+" or is listed as "low", "mid" or "high" depending on the lens manufacturer.
MONEY BACK GUARANTEE Complete Details

HASSLE FREE RETURNS Complete Details
Product Information
Brought to you by Ocular Sciences, Mediflex XC contact lenses offer a high-quality store brand alternative to Biomedics XC lenses at a more affordable price. With the help of innovative PC technology, these lenses keep eyes hydrated throughout wear to prevent end-of-day dryness. The technology works by integrating a unique material containing phosphorylcholine (PC) molecules, which are found in human cell membranes. These molecules naturally attract and build their environments from water, which keeps eyes fully hydrated and healthy all day long.
In addition to this innovative technology, Mediflex XC contact lenses feature an advanced aspheric design that delivers optimal visual clarity. An ultra-thin construction ensures a light and comfortable fit that eliminates lens to lid interaction. Mediflex XC contact lenses are composed of 40 percent omafilcon A, a flexible and durable polymer material that fits your eyes perfectly and resists damage. The remaining portion of the lenses is made up of 60 percent water, which contributes to the incredible moisturizing power of Mediflex XC contacts.
With a convenient 1-2 week replacement schedule, lens wearers can enjoy ideal comfort while eliminating the risk of deposit build-up for a more healthful vision-correcting solution.
Product Availability
This item normally ships within 2-4 business days.
Price Comparison
| Our Lowest Price | Retail Price | Your Savings |
| --- | --- | --- |
| $13.99 | $22.00 | $8.01 |
Material Content
40% Polymer (omafilcon A)