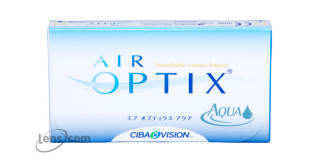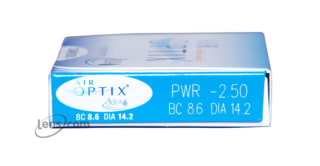 Air Optix Aqua
6 Month Supply

$26.99

$67.00 You Save $40.01

Buy 4 boxes for

$17.00 per

box

after rebate

Buy 2 boxes for

$19.50 per

box

after rebate

See Details See Details
Choose Quantity & Enter Prescription for Right and Left Eye
Prescription Information:
OD

right eye

OS

left eye

Brand name

eg. Acuvue

BC / Base Curve

a number between 8.0 and 10.0

DIA / Diameter

a number between 13.0 and 15.0

Power / Sphere / Rx

a number between -20 and +20
In Addition for astigmatic patients:
Cylinder

a number between -4.00 and +4.00

Axis

a number between 0 and 180

Cylinder and Axis are usually separated by a x
For Multifocal, Bifocal lenses or Presbyopia:
"Addition" or "add" is usually preceded by "+" or is listed as "low", "mid" or "high" depending on the lens manufacturer.
MONEY BACK GUARANTEE Complete Details

HASSLE FREE RETURNS Complete Details
Good Contacts
This is the first time that I have been able to wear contacts for an extended period of time (more than 8 hours) without any irritation. I can't even tell that they are there, with the exception that I can see! Thank you!
Great Product
These are fantastic.
Air Optix contact lens
I like these contacts. They fit great and are easy to see with their light hue.
Great fit
I love that I can wear them all day. I swim with them in. I love these contacts

4 people found the following review helpful:
Two weeks for best use
They don't last the whole month. My often get uncomfortable after about two weeks. I just by extra since they're not that pricey and keep them fresh.
4 people found the following review helpful:
Air optics
Comfortable lens for me and nice for eye health if I have problems I throw them and put a new pair in the next morning.
4 people found the following review helpful:
Good product
Order shipped in a timely manner. I have not yet used these contacts.
5 people found the following review helpful:
Price
The product is great ... but I paid twice as much as I did for this order than the last order I placed. For that reason I may not order again.
5 people found the following review helpful:
The contacts are very comfortable to wear
I like the fact it didn't take long to receive my contacts. Placing an order was very simple.
4 people found the following review helpful:
Product Information
If youíre a contact lens wearer youíre probably familiar with the way your eyes feel when theyíre not getting enough oxygen. Itís that tight, choked-out sensation that makes you want to pull your contacts out at the first possible opportunity. While contact lens breathability has improved greatly over the years, some lenses are better than others at letting precious oxygen through. Air Optix contacts were designed with that particular purpose in mind.
Created from an exclusive silicone hydrogel material, Air Optix allows for up to five times more oxygen to reach the eyes compared to other popular contact lens brands. This exceptional breathability helps maintain eye health and reduces irritation and discomfort. Additionally, when eyes get more oxygen, they tend to be whiter and clearer, which makes them look healthier too. Oxygen flow is not the only comfort feature Air Optix provides. These lenses have an exceptionally smooth surface since their exterior layer is actually fused to the lens, creating a permanently smooth outer surface. While other contact lenses collect protein deposits over time, the smooth surface of Air Optix contact lenses resists deposits as there is nowhere for residue to accumulate.
The completely even surface of Air Optix lenses also allows tears to uniformly distribute over the contacts, keeping lenses and eyes lubricated and comfortable from insertion to removal. This consistent coating of tears helps protect eyes from becoming dry or painful. If youíre tired of relying on wetting drops to comfortably get through the day, Air Optix Aqua contact lenses may be the best solution for you. In combining these exclusive comfort elements, Air Optix Aqua contacts offer sharp vision, all-day comfort, and fresh, clean feeling lenses that last for the whole duration of its use.
Air Optix contact lenses are monthly contact lenses, which means that they can be worn for thirty days. Simply remove and clean them each night, re-insert in the morning, and toss out at the end of the month. If youíre having an exceptionally busy week or are planning a trip, these lenses are approved for up to six nights of extended wear. If your optometrist recommends a wearing schedule that differs from the manufacturers, follow the guidance of your optometrist, as they understand the complexities of your eyes better than anyone else.
If your wallet has ever tempted you to buy cheap contact lenses over trusted name brands, then you need to check the prices at Lens.com. We regularly review competitor sites to ensure weíre offering the lowest prices around. You can shop with confidence as we offer the lowest prices, a money-back guarantee, and quick delivery.
Product Availability
This item normally ships within 1 - 2 business days.
Price Comparison
| Our Lowest Price | Retail Price | Your Savings |
| --- | --- | --- |
| $27.00 | $67.00 | $40.00 |
Material Content
67% Polymer (lotrafilcon B)