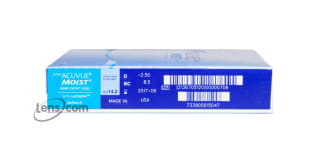 1-Day Acuvue Moist
1
Choose Package Size & Savings
when you buy

4

boxes

after rebate

when you buy

4

boxes

after rebate

when you buy

2

boxes

after rebate
2
Choose Quantity & Enter Prescription for Right and Left Eye
Prescription Information:
OD

right eye

OS

left eye

Brand name

eg. Acuvue

BC / Base Curve

a number between 8.0 and 10.0

DIA / Diameter

a number between 13.0 and 15.0

Power / Sphere / Rx

a number between -20 and +20
In Addition for astigmatic patients:
Cylinder

a number between -4.00 and +4.00

Axis

a number between 0 and 180

Cylinder and Axis are usually separated by a x
For Multifocal, Bifocal lenses or Presbyopia:
"Addition" or "add" is usually preceded by "+" or is listed as "low", "mid" or "high" depending on the lens manufacturer.
FREE SHIPPING

MONEY BACK GUARANTEE Complete Details

HASSLE FREE RETURNS Complete Details
1-Day Acuvue Moist

Reviews
Very convenient
I like that I don't have to buy all the liquid
Your company fills our orders promptly .
These contacts work for me. I have have contact specialist give me the wrong contacts once and that gave me a medical problem. Not good. Stick with a company that you know will get your order correct.
1 person found the following review helpful:
good quality
Really good quality lenses. I'm glad I switched to daily ones. Always clean and brand new. I'd recommend them to everyone.
A bit drying
Liked the contact but they are a bit drying. I don't use everyday but I prefer 1-day contacts due to lower chances of infections.
Great product
I love these contacts been using these brand for years.
Great contacts
perfect for one day use or even 2 days!
6 people found the following review helpful:
Does not fit
These contacts float around around in my eyes and seem very flimsy. They dry my eyes after only a couple hours. They also roll up into my eyelids very easily
5 people found the following review helpful:
Extremely comfortable lens
These are the most Comfortable lenses I have ever worn !!!!!!!!!!!
5 people found the following review helpful:
Acuvue Moist Contacts are a winner!
I had RK in the mid 1980's to correct nearsightedness and have enjoyed 20/20 vision for over 30 years. Now that I am in my mid 60's, I have become farsighted. I hate wearing glasses and tried contacts twice in the last several years. These Acuvue Moist one a day contacts are like pillows on my eyes. My eyes actually feel better when they're in rather than out. I started wearing them 16 hours a day with no break in period. Great product!
4 people found the following review helpful:
Product Information
Made by a trusted name in health care products, Johnson & Johnson, 1-Day Acuvue Moist lenses are the ideal choice for those seeking the convenience of†daily disposable contacts. Featuring Acuvueís exclusive LACERONģ technology that includes a moisture-rich wetting agent, 1-Day Acuvue Moist lenses provide the benefit of increased comfort so your eyes will stay fresh and moist until the end of the day. By creating a cushion of moisture that acts similar to natural tears, Acuvue 1-Day Moist reduces friction and retains the soft, natural feeling that make this product so popular amongst daily wearers of contact lenses.
Specifically crafted for enhanced visual accuracy, 1-Day Acuvue Moist is a superior choice not only for reasons of comfort and efficiency but safety as well. The moisture-rich ingredient contained in the 1-Day Acuvue Moist 30 and 90 packs also protects the eyes from harmful UV rays. Designated as a Class II blocker by the FDA, Acuvue 1-Day Moist lenses block at least 82% of UV-A and 97% of UV-B radiation. Although Acuvue 1-Day Moist contact lenses block the majority of UV-A and UV-B radiation, eye care professionals still recommend that contact lens wearers protect their eyes outdoors with sunglasses.
Etafilcon A, the hydrogel material featured in 1-Day Acuvue Moist, increases breathability in the eyes. If youíre among the many who suffer from allergies, clinical research has shown that wearing contacts made from etafilcon A on a daily disposable basis can provide relief from mild discomfort or itching associated with allergies. Whether your current lenses become uncomfortable during an allergy attack or youíve never worn contacts before, 1-Day Acuvue Moist contact lenses are a safe, comfortable, and convenient choice.
With advanced technology in vision, comfort and UV protection 1-Day Acuvue Moist contact lenses will exceed the needs of those looking for a convenient solution to vision correction. And, with Lens.com, the solution is an affordable one. Lens.com is proud to offer these contact lenses at the lowest price allowed by Johnson & Johnson. Lens.com offers 1-Day Acuvue Moist contact lenses in 2 pack sizes. So when you purchase your 1-Day Acuvue Moist contact lenses from Lens.com, you can be assured that youíre getting the lowest price possible!
For more information about 1-Day Acuvue Moist contact lenses, read the reviews below to see what others have experienced while using 1-Day Acuvue Moist contacts. With quick shipping, competitive prices, and a helpful customer service team, ordering contact lenses from Lens.com has never been easier.
Product Availability
This item normally ships within 1 - 2 business days.
Price Comparison
Package Size
Our Lowest Price
Retail Price
Your Savings

30

Pack
(

1

Month Supply)
$30.99
$46.00
$15.01

90

Pack
(

3

Month Supply)
$62.99
$79.00
$16.01
Material Content
42% Polymer (etafilcon A)