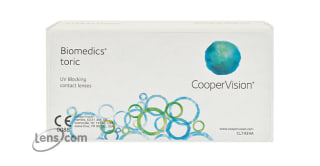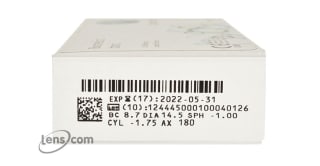 Bioflex Toric
3 Month Supply

$34.95

$48.00 You Save $13.05

$27.50 Buy 2+ per eye $48.00 You Save $20.50
Choose Quantity & Enter Prescription for Right and Left Eye
Prescription Information:
OD

right eye

OS

left eye

Brand name

eg. Acuvue

BC / Base Curve

a number between 8.0 and 10.0

DIA / Diameter

a number between 13.0 and 15.0

Power / Sphere / Rx

a number between -20 and +20
In Addition for astigmatic patients:
Cylinder

a number between -4.00 and +4.00

Axis

a number between 0 and 180

Cylinder and Axis are usually separated by a x
For Multifocal, Bifocal lenses or Presbyopia:
"Addition" or "add" is usually preceded by "+" or is listed as "low", "mid" or "high" depending on the lens manufacturer.
MONEY BACK GUARANTEE Complete Details

HASSLE FREE RETURNS Complete Details
Product Information
If youíre looking for quality toric contact lenses for astigmatism that have a two-week replacement schedule, Bioflex Toric contacts are a great option. Bioflex Toric contacts are exceptionally comfortable, high-performing soft contact lenses that are identical to the popular Biomedics 55 and Ultraflex Toric brands. Manufactured by CooperVision, Bioflex Toric contacts are designed especially for patients with astigmatism, and provide superior control of spherical aberration in the lenses of human eyes. By assisting the eye in focusing light on a common point, Bioflex Toric contact lenses deliver the sharp, clear vision that contact lens wearers with astigmatism need.
Bioflex Toric contacts utilize a thinner, patented edge design to ensure a comfortable fit and optimal stability, allowing the wearer to enjoy consistently clear vision throughout the wearing period. Bioflex Toric contacts are made from a soft, gel-like material called ocufilcon D, which forms to the shape of the wearerís eyes for a fit that feels customized. Bioflex Toric contacts are also designed with a 55 percent water content to provide eyes with refreshing moisture that helps beat end-of-day dryness with no need for eye drops or other wetting agents.
Bioflex Toric contacts feature UV blocking protection to guard the covered portion of your eyes from the sun's harmful UV rays, so the wearer can enjoy better safety and health when they are outdoors. Bioflex Toric lenses are weekly disposable contact lenses which means they can be worn for up to 14 days before being discarded and replaced. This schedule is most convenient for wearers who donít want the hassle of replacing their lenses as frequently as they would with daily disposable lenses who also want to avoid the decline in comfort thatís often associated with monthly contacts. In order to determine if Bioflex Toric contact lenses are the right choice for you, itís important to consult with an eye care professional about your specific vision needs.
Lens.com offers Bioflex Toric contact lenses at a better value than you will find anywhere online or in stores. With hassle-free returns, 100% money-back satisfaction, and quick shipping, you canít go wrong with Lens.com.
Product Availability
This item normally ships within 3-5 business days.
Price Comparison
| Our Lowest Price | Retail Price | Your Savings |
| --- | --- | --- |
| $27.50 | $48.00 | $20.50 |
Material Content
45% Polymer (ocufilcon D)