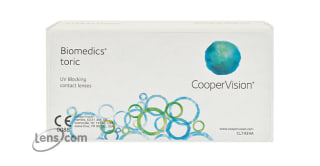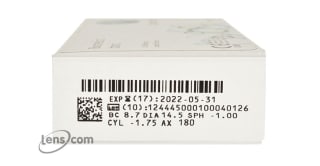 Target Toric
3 Month Supply

$34.95

$48.00 You Save $13.05

$27.50 Buy 2+ per eye $48.00 You Save $20.50
Choose Quantity & Enter Prescription for Right and Left Eye
Prescription Information:
OD

right eye

OS

left eye

Brand name

eg. Acuvue

BC / Base Curve

a number between 8.0 and 10.0

DIA / Diameter

a number between 13.0 and 15.0

Power / Sphere / Rx

a number between -20 and +20
In Addition for astigmatic patients:
Cylinder

a number between -4.00 and +4.00

Axis

a number between 0 and 180

Cylinder and Axis are usually separated by a x
For Multifocal, Bifocal lenses or Presbyopia:
"Addition" or "add" is usually preceded by "+" or is listed as "low", "mid" or "high" depending on the lens manufacturer.
MONEY BACK GUARANTEE Complete Details

HASSLE FREE RETURNS Complete Details
126 people found the following review helpful:
I see more clearly with Biomedics Toric
I bought the Biomedics Toric lenses last week and I am already noticing a big difference in my vision. I had some blurring before but with these I see much more clearly.
126 people found the following review helpful:
Product Information
Patients with astigmatism can finally enjoy a clear view with Target Toric contact lenses manufactured by Ocular Sciences and are identical to and all orders will be filled with Biomedics Toric or Ultraflex Toric contact lenses. To ensure sharper sight, the lenses feature an innovative design that corrects refractive errors of the eye for proper focus of light. In addition to superior vision, the lenses offer exceptional comfort with a thin, patented edge design. This design facilitates a natural fit that won't result in irritating interference with your eyelids. Count on high stability and low rotation with 45 percent ocufilcon D, an advanced material that conforms to the shape of your eyes for a comfortable fit.
To complement the stability of this component, 55 percent water keeps eyes refreshed and healthy even in the driest conditions. And Target Toric's innovative UV-blocking protection guards the covered portion of your eyes from the sun's rays.
The lenses come with a deposit-resistant 1-2 week replacement schedule to enhance your convenience and ensure a fresh new pair after up to 14 days. To maintain performance and comfort in the meantime, experts recommend caring for your lenses by cleaning and storing them after each wear.
Product Availability
This item normally ships within 3-5 business days.
Price Comparison
| Our Lowest Price | Retail Price | Your Savings |
| --- | --- | --- |
| $27.50 | $48.00 | $20.50 |
Material Content
45% Polymer (ocufilcon D)