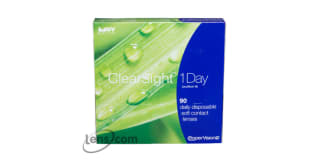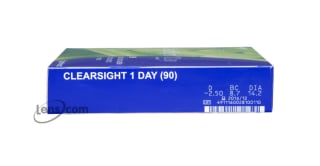 Softview 1 Day
3 Month Supply

$41.95

$76.00 You Save $34.05

$34.99 Buy 3+ per eye $76.00 You Save $41.01
Choose Quantity & Enter Prescription for Right and Left Eye
Prescription Information:
OD

right eye

OS

left eye

Brand name

eg. Acuvue

BC / Base Curve

a number between 8.0 and 10.0

DIA / Diameter

a number between 13.0 and 15.0

Power / Sphere / Rx

a number between -20 and +20
In Addition for astigmatic patients:
Cylinder

a number between -4.00 and +4.00

Axis

a number between 0 and 180

Cylinder and Axis are usually separated by a x
For Multifocal, Bifocal lenses or Presbyopia:
"Addition" or "add" is usually preceded by "+" or is listed as "low", "mid" or "high" depending on the lens manufacturer.
MONEY BACK GUARANTEE Complete Details

HASSLE FREE RETURNS Complete Details
Hassle Free
The Softview 1 Day contact lenses make my life easy. These contact lenses are very hassle-free. I just put my contact lenses in and forget about them for the rest of the day. They are very comfortable so I can barely feel them in my eyes. Best of all I don't have any more eye allergies like I did with weekly disposables. Dailies are the easiest way to go so I just throw them away at the end of the day.
Softview 1 Day feel like they are made for my eyes
The Softview 1 days are extremely comfortable contact lenses. They feel like they are custom made for your eyes. I have never had one fall out on me, even during physical activity. They don't give me dry eyes or bloodshot eyes, and are very comfortable. you can tell this is a great quality lens.
Product Information
A supremely healthy choice for daily or once-in-a-while wear, Softview 1 Day contact lenses by Ocular Sciences feature the same exceptional quality as Biomedics 1 Day at a more affordable price. This hassle-free wear schedule prevents irritating build-up caused by allergens, protein deposits, and general debris, so you can enjoy zero discomfort for a full day. This schedule also prevents the need for daily cleaning and storing, which maximizes your convenience by simply inserting the lenses in the morning and tossing them at bed time.
Softview 1 Day contact lenses are composed of 48 percent ocufilcon B, a technologically advanced polymer material that immediately molds to your eyes from the moment you put them on. This exceptional stability makes the lenses a great choice for both active and sedentary lifestyles. To complete the lens construction, a 52 percent water content refreshes the eyes with comfortable moisture to keep eyes healthy and hydrated no matter how dry your environment might be.
UV-blocking protection keeps the covered portion of your eyes safe when exposed to the sun's harmful ultraviolet rays, so you can preserve your ocular health and vision. Each pair of Softview 1 Day contact lenses is constructed according to your unique prescription, so you can count on full correction and optimal clarity.
Product Availability
This item normally ships within 2-4 business days.
Price Comparison
| Our Lowest Price | Retail Price | Your Savings |
| --- | --- | --- |
| $34.99 | $76.00 | $41.01 |
Material Content
48% Polymer (ocufilcon B)