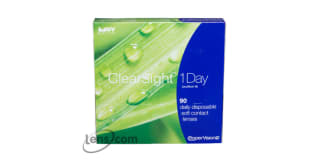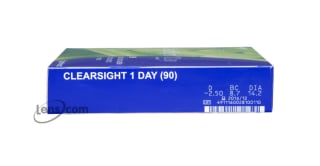 Softech 1 Day
3 Month Supply

$41.95

$76.00 You Save $34.05

$34.99 Buy 3+ per eye $76.00 You Save $41.01
Choose Quantity & Enter Prescription for Right and Left Eye
Prescription Information:
OD

right eye

OS

left eye

Brand name

eg. Acuvue

BC / Base Curve

a number between 8.0 and 10.0

DIA / Diameter

a number between 13.0 and 15.0

Power / Sphere / Rx

a number between -20 and +20
In Addition for astigmatic patients:
Cylinder

a number between -4.00 and +4.00

Axis

a number between 0 and 180

Cylinder and Axis are usually separated by a x
For Multifocal, Bifocal lenses or Presbyopia:
"Addition" or "add" is usually preceded by "+" or is listed as "low", "mid" or "high" depending on the lens manufacturer.
MONEY BACK GUARANTEE Complete Details

HASSLE FREE RETURNS Complete Details
Product Information
Ocular Sciences offers a store brand version of Biomedics 1 Day and ClearSight 1 Day with a conveniently disposable lens called Softech 1 Day. All orders will be filled with either Biomedics 1 Day or ClearSight 1 Day contact lenses. Unlike the average soft contact lens, this design requires zero maintenance, so you can enjoy a full day of comfortable wear and superior vision without the hassle of washing and storing at the end of the day. A one-day lifespan not only enhances your convenience, but ensures better ocular health as well by limiting the likelihood of debris, deposit, and allergen build-up.
Softech 1 Day contact lenses are made of 48 percent ocufilcon B, a material that promotes stability by naturally conforming to the shape of your eyes. To complement this component, a 52 percent water content refreshes the eyes with moisture, so you can beat end-of-day dryness. Advanced UV-blocking protection shields the covered portion of your eyes from the sun's rays for a safer day outdoors.
A unique design facilitates exceptional focus of light, which offers sharper vision at an affordable price. Whether you want more convenience from your daily wear lenses or just want an alternative to glasses every now and then, Softech 1 Day contact lenses are the ultimate solution for quality you can trust.
Product Availability
This item normally ships within 2-4 business days.
Price Comparison
| Our Lowest Price | Retail Price | Your Savings |
| --- | --- | --- |
| $34.99 | $76.00 | $41.01 |
Material Content
48% Polymer (ocufilcon B)