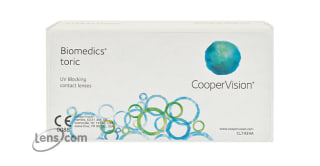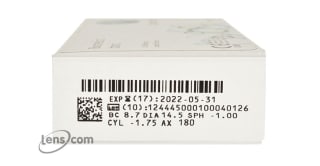 Procon Toric
3 Month Supply

$34.95

$48.00 You Save $13.05

$27.50 Buy 2+ per eye $48.00 You Save $20.50
Choose Quantity & Enter Prescription for Right and Left Eye
Prescription Information:
OD

right eye

OS

left eye

Brand name

eg. Acuvue

BC / Base Curve

a number between 8.0 and 10.0

DIA / Diameter

a number between 13.0 and 15.0

Power / Sphere / Rx

a number between -20 and +20
In Addition for astigmatic patients:
Cylinder

a number between -4.00 and +4.00

Axis

a number between 0 and 180

Cylinder and Axis are usually separated by a x
For Multifocal, Bifocal lenses or Presbyopia:
"Addition" or "add" is usually preceded by "+" or is listed as "low", "mid" or "high" depending on the lens manufacturer.
MONEY BACK GUARANTEE Complete Details

HASSLE FREE RETURNS Complete Details
Product Information
Structurally identical to the well-known brands Biomedics 55 and Ultraflex Toric, Procon Toric contact lenses by Ocular Sciences offer an inexpensive store brand alternative for correcting your astigmatism. Astigmatism is a refractive error of the eye that prevents proper focus of light and results in blurred vision. Procon Toric contact lenses correct this problem by allowing your eyes to focus light on a common point, which delivers a clearer, crisper view. In addition to supreme visual clarity, the lenses also provide maximum comfort with a thinner, patented edge. This construction eliminates interaction between the lenses and your eyelids for a comfortable, natural feeling throughout wear.
Procon Toric contact lenses are composed of 45 percent ocufilcon D, a technologically advanced polymer material that feels silky smooth against the eyes and remains stable from insertion to removal. The remaining 55 percent of the lenses is composed of refreshing water to keep eyes hydrated and healthy no matter where your day takes you.
To guard the covered portion of your eyes from the damaging effects of the sun's ultraviolet rays, Procon Toric contact lenses feature UV-blocking protection for safer wear. A 1-2 week replacement schedule brings convenience to your lifestyle with a fresh new pair after up to 14 days of wear with the previous lenses.
Product Availability
This item normally ships within 3-5 business days.
Price Comparison
| Our Lowest Price | Retail Price | Your Savings |
| --- | --- | --- |
| $27.50 | $48.00 | $20.50 |
Material Content
45% Polymer (ocufilcon D)