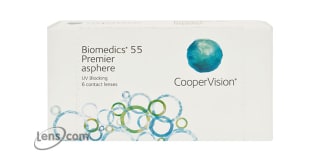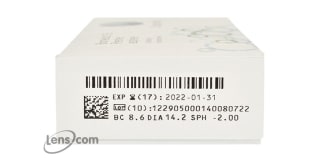 Omniflex 55 Premier
3 Month Supply

$15.99

$25.00 You Save $9.01

$13.99 Buy 4+ per eye $25.00 You Save $11.01
Choose Quantity & Enter Prescription for Right and Left Eye
Prescription Information:
OD

right eye

OS

left eye

Brand name

eg. Acuvue

BC / Base Curve

a number between 8.0 and 10.0

DIA / Diameter

a number between 13.0 and 15.0

Power / Sphere / Rx

a number between -20 and +20
In Addition for astigmatic patients:
Cylinder

a number between -4.00 and +4.00

Axis

a number between 0 and 180

Cylinder and Axis are usually separated by a x
For Multifocal, Bifocal lenses or Presbyopia:
"Addition" or "add" is usually preceded by "+" or is listed as "low", "mid" or "high" depending on the lens manufacturer.
MONEY BACK GUARANTEE Complete Details

HASSLE FREE RETURNS Complete Details
Omniflex 55 Premier

Reviews
Product Information
Proving that top-notch vision doesn't have to cost top dollar, Omniflex 55 Premier contact lenses by Ocular Sciences promote superior focus of light for a crystal clear view every time. Just like their name-brand counterparts Biomedics 55 Premier and Ultraflex 55, Omniflex 55 Premier lenses are designed to control an effect known as spherical aberration. To prevent the blurred vision that results from this effect, the lenses assist the eyes in properly focusing light on a common point. With the advanced corrective properties of the lenses, you can count on crisper, sharper vision both up close and far away.
An extremely thin, patented edge design provides such a light and natural fit that you'll forget you're wearing lenses. Advanced UV-blocking protection guards the covered portions of your eyes from harmful ultraviolet rays, so you can enjoy a day outdoors without exposing your eyes to dangerous conditions. An innovative combination of 45 percent ocufilcon D and 55 percent water work together to keep the lenses stable and your eyes hydrated for superior comfort and performance.
Omniflex 55 Premiere contact lenses come with a convenient 1-2 week replacement schedule, which ensures that the lenses maintain a high level of quality with daily cleaning and storing.
Product Availability
This item normally ships within 2-4 business days.
Price Comparison
| Our Lowest Price | Retail Price | Your Savings |
| --- | --- | --- |
| $13.99 | $25.00 | $11.01 |
Material Content
45% Polymer (ocufilcon D)