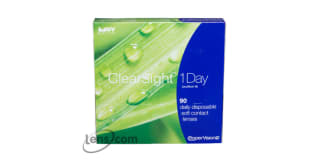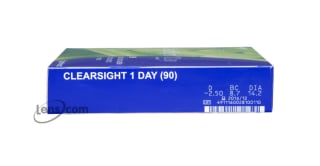 Natural Sight 1 Day
3 Month Supply

$41.95

$76.00 You Save $34.05

$34.99 Buy 3+ per eye $76.00 You Save $41.01
Choose Quantity & Enter Prescription for Right and Left Eye
Prescription Information:
OD

right eye

OS

left eye

Brand name

eg. Acuvue

BC / Base Curve

a number between 8.0 and 10.0

DIA / Diameter

a number between 13.0 and 15.0

Power / Sphere / Rx

a number between -20 and +20
In Addition for astigmatic patients:
Cylinder

a number between -4.00 and +4.00

Axis

a number between 0 and 180

Cylinder and Axis are usually separated by a x
For Multifocal, Bifocal lenses or Presbyopia:
"Addition" or "add" is usually preceded by "+" or is listed as "low", "mid" or "high" depending on the lens manufacturer.
MONEY BACK GUARANTEE Complete Details

HASSLE FREE RETURNS Complete Details
Natural Sight 1 Day

Reviews
Product Information
Natural Sight 1 Day contact lenses are a store brand and will be filled with Biomedics 1 Day or ClearSight 1 Day. Natural Sight 1 Day contact lenses by Ocular Sciences keep your vision clear while offering superior convenience for your busy lifestyle. The one-day replacement schedule of the lenses makes them an ideal choice for those who want lenses for once-in-a-while wear or to prevent discomfort caused by built-up protein deposits and debris. An ultra-thin design provides a natural fit with no lens-lid interaction.
Natural Sight 1 Day contact lenses are composed of 48 percent ocufilcon B, a polymer material that adapts to the shape of your eyes for a perfect fit. 52 percent water content completes this construction to hydrate the eyes with moisturizing power that lasts all day. In addition to exceptional comfort, the lenses help protect your eyes from the sun's ultraviolet rays with UV-blocking protection.
If you want clarity without the hassle of maintenance requirements, Natural Sight 1 Day contact lenses give you the freedom of a fresh pair every day with daily disposal once you're ready for bed. With a store brand price, you can fight your end-of-day discomfort for less.
Product Availability
This item normally ships within 2-4 business days.
Price Comparison
| Our Lowest Price | Retail Price | Your Savings |
| --- | --- | --- |
| $34.99 | $76.00 | $41.01 |
Material Content
48% Polymer (ocufilcon B)