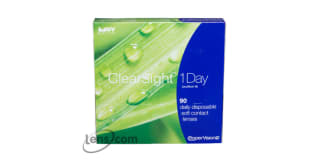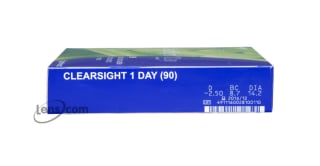 Clearsoft 1 Day
3 Month Supply

$41.95

$76.00 You Save $34.05

$34.99 Buy 3+ per eye $76.00 You Save $41.01
Choose Quantity & Enter Prescription for Right and Left Eye
Prescription Information:
OD

right eye

OS

left eye

Brand name

eg. Acuvue

BC / Base Curve

a number between 8.0 and 10.0

DIA / Diameter

a number between 13.0 and 15.0

Power / Sphere / Rx

a number between -20 and +20
In Addition for astigmatic patients:
Cylinder

a number between -4.00 and +4.00

Axis

a number between 0 and 180

Cylinder and Axis are usually separated by a x
For Multifocal, Bifocal lenses or Presbyopia:
"Addition" or "add" is usually preceded by "+" or is listed as "low", "mid" or "high" depending on the lens manufacturer.
MONEY BACK GUARANTEE Complete Details

HASSLE FREE RETURNS Complete Details
Product Information
For regular wear, sports, and special occasions, Clearsoft 1 Day contact lenses by Ocular Sciences provide you with clear vision and a comfortable fit no matter where your day takes you. Clearsoft 1 Day lenses deliver the same quality as the well-known Biomedics 1 Day brand, but offer a lower price for buyers on a budget. An advanced design features thin edges and an adaptable polymer material known as ocufilcon B, which work together to ensure a comfortable lens wearing experience. An advanced internal UV-blocker protects the covered portion of your eyes from the sun's harmful ultraviolet rays, and can help prevent the development of cataracts.
Composed of 52 percent water, Clearsoft 1 Day contact lenses keep eyes moist and hydrated whether you spend your days in front of the computer or out on a sunny day. A one-day replacement schedule guarantees optimal convenience with no need for cleaning and storing. This schedule also promotes excellent ocular health by preventing the risk of protein deposits and debris build-up that can occur with extended wear. An innovative design promises ideal stability and acute vision, so you can enjoy an active, on-the-go lifestyle with no need for adjustments throughout wear.
Product Availability
This item normally ships within 2-4 business days.
Price Comparison
| Our Lowest Price | Retail Price | Your Savings |
| --- | --- | --- |
| $34.99 | $76.00 | $41.01 |
Material Content
48% Polymer (ocufilcon B)