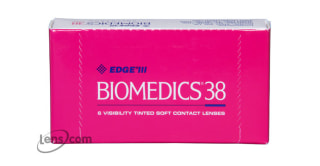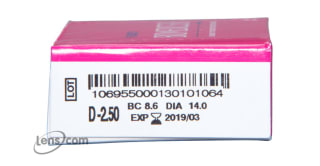 Softech 38
3 Month Supply

$19.95

$24.00 You Save $4.05

$13.99 Buy 3+ per eye $24.00 You Save $10.01
Choose Quantity & Enter Prescription for Right and Left Eye
Prescription Information:
OD

right eye

OS

left eye

Brand name

eg. Acuvue

BC / Base Curve

a number between 8.0 and 10.0

DIA / Diameter

a number between 13.0 and 15.0

Power / Sphere / Rx

a number between -20 and +20
In Addition for astigmatic patients:
Cylinder

a number between -4.00 and +4.00

Axis

a number between 0 and 180

Cylinder and Axis are usually separated by a x
For Multifocal, Bifocal lenses or Presbyopia:
"Addition" or "add" is usually preceded by "+" or is listed as "low", "mid" or "high" depending on the lens manufacturer.
MONEY BACK GUARANTEE Complete Details

HASSLE FREE RETURNS Complete Details
Product Information
Offering superior focusing power at a fraction of the price, Softech 38 contact lenses by Ocular Sciences deliver the same vision quality and comfort as its sibling brands Biomedics 38 and Ultraflex 38. When this lens is placed on the cornea, it corrects refractive errors that can often cause blurred or imprecise vision. As result, your view stays sharp and crisp from both up close and far away. The lens design does more than just improve your eyesight: it also keeps eyes comfortable with an innovative construction of 62 percent polymacon and 38 percent water.
The first component is a soft, gel-like polymer material that is naturally malleable, facilitating a comfortable and customized fit. The water component of the lenses refreshes the eyes to maintain health and moisture whether you spend your day out in the hot sun or indoors staring at a computer screen. Softech 38 contact lenses come in four convenient visibility tints, which makes them easier to detect in solution and orient on your eyes. Lens wearers can choose from the following tint colors: Aqua, Sapphire, Emerald, and Smoky Quartz.
A 1-2 week replacement schedule adds even greater convenience to your wear, with daily cleaning and storing necessary before replacing with a fresh new pair after up to 14 days.
Product Availability
In stock - Orders normally ship same day if ordered by 2 PM CST
Price Comparison
| Our Lowest Price | Retail Price | Your Savings |
| --- | --- | --- |
| $13.99 | $24.00 | $10.01 |
Material Content
62% Polymer (polymacon)