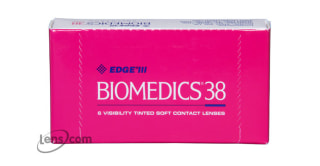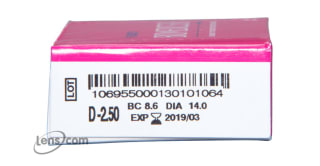 Prosite 38
3 Month Supply

$19.95

$24.00 You Save $4.05

$13.99 Buy 3+ per eye $24.00 You Save $10.01
Choose Quantity & Enter Prescription for Right and Left Eye
Prescription Information:
OD

right eye

OS

left eye

Brand name

eg. Acuvue

BC / Base Curve

a number between 8.0 and 10.0

DIA / Diameter

a number between 13.0 and 15.0

Power / Sphere / Rx

a number between -20 and +20
In Addition for astigmatic patients:
Cylinder

a number between -4.00 and +4.00

Axis

a number between 0 and 180

Cylinder and Axis are usually separated by a x
For Multifocal, Bifocal lenses or Presbyopia:
"Addition" or "add" is usually preceded by "+" or is listed as "low", "mid" or "high" depending on the lens manufacturer.
MONEY BACK GUARANTEE Complete Details

HASSLE FREE RETURNS Complete Details
Product Information
Identical to the popular brands Biomedics 38 and Ultraflex 38, Prosite 38 contact lenses by Ocular Sciences deliver clear vision. All orders will be filled with Biomedics 38 and Ultraflex 38 contact lenses to save you money. The lenses act as a corrective refractive medium when placed on the cornea, enabling a more accurate focus of light on the retina. This feature ensures a sharper, more precise view in all light settings, for a host of corrective needs.
A two-part construction is technologically-advanced and supremely comfortable, allowing lens-wearers to enjoy the latest innovations in contact lens performance. The first component is 62 percent polymacon, a hydrophilic polymer that facilitates a silky smooth fit for all eyes. The remaining 38 percent is water, which delivers hydrating moisture to your eyes for a more comfortable feeling with no eye drops necessary.
Prosite 38 contact lenses are conveniently tinted to make them easier to detect in solution. This tint comes in four gorgeous colors, including Aqua, Sapphire, Emerald and Smoky Quartz. Although this tint will promote easier handling of the lenses, it features a visible light transmittance exceeding 97 percent, so your vision remains clear throughout wear. A 1-2 week replacement schedule enhances your convenience, while eliminating the likelihood of debris and deposit build-up for optimal comfort and consistent quality.
Product Availability
In stock - Orders normally ship same day if ordered by 2 PM CST
Price Comparison
| Our Lowest Price | Retail Price | Your Savings |
| --- | --- | --- |
| $13.99 | $24.00 | $10.01 |
Material Content
62% Polymer (polymacon)