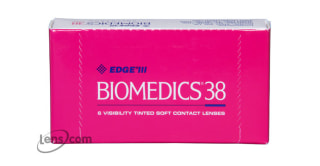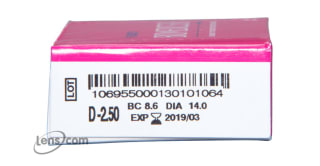 Polysoft 38
3 Month Supply

$19.95

$24.00 You Save $4.05

$13.99 Buy 3+ per eye $24.00 You Save $10.01
Choose Quantity & Enter Prescription for Right and Left Eye
Prescription Information:
OD

right eye

OS

left eye

Brand name

eg. Acuvue

BC / Base Curve

a number between 8.0 and 10.0

DIA / Diameter

a number between 13.0 and 15.0

Power / Sphere / Rx

a number between -20 and +20
In Addition for astigmatic patients:
Cylinder

a number between -4.00 and +4.00

Axis

a number between 0 and 180

Cylinder and Axis are usually separated by a x
For Multifocal, Bifocal lenses or Presbyopia:
"Addition" or "add" is usually preceded by "+" or is listed as "low", "mid" or "high" depending on the lens manufacturer.
MONEY BACK GUARANTEE Complete Details

HASSLE FREE RETURNS Complete Details
124 people found the following review helpful:
New wearer
I really have taken a liking to theses new Polysoft 38 contacts that I just bought.
124 people found the following review helpful:
Product Information
Polysoft 38 contact lenses by Ocular Sciences ensure exceptional visual quality thatís identical to its sibling brands Biomedics 38 and Ultraflex 38. An innovative spherical construction is designed to correct refractive errors and improve the focus of light on the retina. As a result, your vision will be clearer and sharper. All orders will be filled with Biomedics 1 Day or ClearSight 1 Day.
Polysoft 38 contact lenses feature a convenient cosmetic tint which makes them easier to detect in solution and promotes user-friendly handling overall. This tint is applied in an annular pattern to ensure a clear optic zone, so you can enjoy the convenience of more visible lenses without sacrificing the quality of your vision.
A 62 percent polymacon component quickly conforms to the shape of your eyes and promotes stability and comfort. To complete the construction, a 38 percent water component refreshes the eyes with maximum hydration. These two elements come together to provide a consistent outlook and a silky smooth fit. Polysoft 38 contact lenses come with a convenient 1-2 week replacement schedule, which requires daily cleaning and care before replacing the lenses with a fresh new pair after up to 14 days.
Product Availability
In stock - Orders normally ship same day if ordered by 2 PM CST
Price Comparison
| Our Lowest Price | Retail Price | Your Savings |
| --- | --- | --- |
| $13.99 | $24.00 | $10.01 |
Material Content
62% Polymer (polymacon)