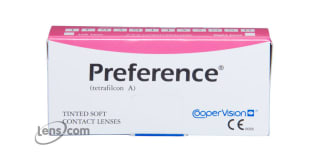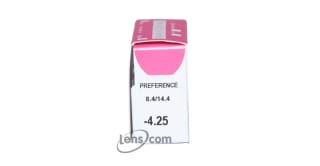 Preference DW/FW (Pink Box)
12 Month Supply

$70.99

$80.00 You Save $9.01

Buy 4 boxes for

$60.95 per

box

after rebate

See Details See Details
Choose Quantity & Enter Prescription for Right and Left Eye
Prescription Information:
OD

right eye

OS

left eye

Brand name

eg. Acuvue

BC / Base Curve

a number between 8.0 and 10.0

DIA / Diameter

a number between 13.0 and 15.0

Power / Sphere / Rx

a number between -20 and +20
In Addition for astigmatic patients:
Cylinder

a number between -4.00 and +4.00

Axis

a number between 0 and 180

Cylinder and Axis are usually separated by a x
For Multifocal, Bifocal lenses or Presbyopia:
"Addition" or "add" is usually preceded by "+" or is listed as "low", "mid" or "high" depending on the lens manufacturer.
MONEY BACK GUARANTEE Complete Details

HASSLE FREE RETURNS Complete Details
Preference DW/FW (Pink Box)

Reviews
72 people found the following review helpful:
Say good bye to my glasses!
It was my first time wearing contacts, and so I decided on Preference DW contact lenses. They were super comfortable and very easy to put in, making my contact fear go away! Now I can happily wear contacts daily and not need glasses.
73 people found the following review helpful:
I've found Preference DW to be very comfortable
I am very pleased with my recent purchase of these Preference DW lenses! Compared to other lenses I have tried, they are very low-maintenance and convenient. Even better, they are also incredibly comfortable!
84 people found the following review helpful:
perfect end to redness and dryness
My eyes are thanking me for wearing Preference DW contact lenses! They don't cause any irritation and are very comfortable to wear. I love how my eyes didn't look red or dried out, which was what I was expecting with contacts- not so with these!
84 people found the following review helpful:
Preference are very high quality
I tend to be clumsy with contacts, so I'm glad I tried out these durable ones! Preference DW contact lenses are super durable and last a whole month so I'm saving money. They are super easy to keep clean and the tinting helps make finding them easy too.
90 people found the following review helpful:
I was totally impressed with my Preference DW
I am a big fan of these Preference DW lenses! They work perfectly with my busy, active lifestyle, giving me crystal-clear vision all day long. I plan to re-purchase.
84 people found the following review helpful:
The Preference DW are really nice lenses
These Preference DW lenses are perfect for my lifestyle! They are convenient and easy-to-handle, thanks to a slight tint that does not change my eye color.
100 people found the following review helpful:
Preference DW for long day comfort and clarity
This is my first time trying contact lenses, and I am pleasantly surprised! These Preference DW lenses give me sharp vision even on the longest days! I plan to re-purchase these lenses.

SWEET!
Used to wear these until i became allergic to them. These lenses rock! Would love to be able to still wear these. I used to wear them for months (and I mean months) on end with no problem, which btw is not the suggested course of action as that is what probably caused my allergic reaction. Nonetheless would suggest this to anyone looking for extended wear lens. These will last. I would say to prevent what happened to me, you should take them out after a few months or so.
Preference lets me choose my own schedule
The Preference DW/FW contact lenses are really convenient. With these contact lenses I don't need to stick to a certain contact wearing schedule. I can put them in and remove them when it is convenient for me. The best part is that the contacts stay comfortable for the entire time. These contacts are great!
Preference DW I can put it in and forget about it!
You can tell that the Preference monthly disposable contact lenses are a great contact lens right when you put them in your eye. I tried them on at my doctors and I immediately knew they were the right lenses for me. Everything was so much clearer and the comfort was amazing.
Product Information
When you start researching contact lens brands you can get bogged down by all the details. There are a lot of fancy new lenses on the market with a wide range of features—some that work for some people, and some that work for others. The truth is though, that sometimes simplicity is best, especially when you're first starting out. If you're looking for an uncomplicated contact lens that is high on function and performance, then Preference DW/FW may be the perfect lens for you.
Having all the bells and whistles can be nice if you need to address certain eye issues. However, when you're just starting out with contact lenses or generally have no problems wearing them, then why not go with a high quality, uncomplicated lens? Preference DW/FW contact lenses are made by trusted eye care name, CooperVision. With high durability and easy handling, they're perfect for those who want an uncomplicated lens care experience. Preference DW are made from a polymer known as tetrafilcon A. Since these lenses are 57 percent tetrafilcon A and 43 percent water, they're less likely to tear than lenses with a higher water content. They also hold their shape better, which makes handling them far easier. Another perk of tetrafilcon A is that the substance is resistant to deposits, meaning your eyes will be less irritated and healthier.
Preference contacts are quarterly contact lenses. As such, they can be worn each day for up to 3 months. Once this time has elapsed, the lenses can simply be discarded and replaced with a fresh new pair. Of course, as with many contact lenses, Preference FW need to be removed and soaked in disinfecting solution at the end of each day. Being on such a schedule helps maintain eye health and comfort. To make these lenses even easier to handle, CooperVision has incorporated a convenient handling tint. The slight color makes the lenses easier to spot in solution and during insertion and removal. It does not, however, change the color of eyes when inserted.
Whether you have a hectic schedule and are looking for an uncomplicated lens or are a contact lens beginner and want to start with something easy, Preference DW/FW may be perfect for you. When you're ready to order, be sure to have a look at the prices on Lens.com. With hassle-free returns, 100% money-back customer satisfaction, and quick shipping, you can't go wrong with purchasing your contact lenses from Lens.com.
Product Availability
This item normally ships within 4-7 business days.
Price Comparison
| Our Lowest Price | Retail Price | Your Savings |
| --- | --- | --- |
| $70.95 | $80.00 | $9.05 |
Material Content
57% Polymer (tetrafilcon A)