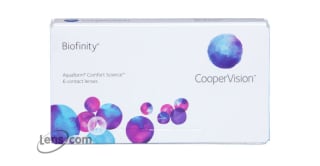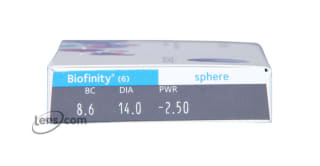 Biofinity
6 Month Supply

$12.75

$59.00 You Save $46.25

See Details See Details
Choose Quantity & Enter Prescription for Right and Left Eye
Prescription Information:
OD

right eye

OS

left eye

Brand name

eg. Acuvue

BC / Base Curve

a number between 8.0 and 10.0

DIA / Diameter

a number between 13.0 and 15.0

Power / Sphere / Rx

a number between -20 and +20
In Addition for astigmatic patients:
Cylinder

a number between -4.00 and +4.00

Axis

a number between 0 and 180

Cylinder and Axis are usually separated by a x
For Multifocal, Bifocal lenses or Presbyopia:
"Addition" or "add" is usually preceded by "+" or is listed as "low", "mid" or "high" depending on the lens manufacturer.
MONEY BACK GUARANTEE Complete Details

HASSLE FREE RETURNS Complete Details
2 people found the following review helpful:
Very comfortable
Love these contacts....they are thin and super comfortable.
2 people found the following review helpful:
Good Condition
Good condition, fast shipping and cheaper price than other sites.
1 person found the following review helpful:
Same brand contacts that I can get from the doctor
It helps keep my eyes from getting dry.
1 person found the following review helpful:
Not much.
Very satisfied with the product and price.
Great fit
I really like the comfort of these lens. I can wear these contacts all day long and they don't bother my eyes.
Good product with good pricing and quick shipping
The product is great. Ring used in a monovision prescription and works extremely well. Also durable
Contact Lens Satisfaction
They are thicker than the ones I had before and are more comfortable to wear.
Quick delivery of order
I like how the contacs feel when wearing them vs some other brands. Don't even realize have them in.
1 person found the following review helpful:
Good quality
Happy to receive them promptly.
2 people found the following review helpful:
Product Information
Biofinity contact lenses use Biofinity Aquaform Comfort Science technology to bring contact lens wearers an advanced level of comfort in a monthly disposable lens. By bringing together two essential elements, high oxygen performance and a naturally wet lens material, your eyes will stay healthy and the lenses will stay soft and deposit-resistant with the water-retaining lens material. This, combined with a lens design that focuses light better for higher resolution and deeper focus, make for a truly remarkable silicone hydrogel lens.
Approved for six nights and seven days of extended wear, Biofinity contacts won't slow down your busy days. With a premium level of comfort packed into these lenses, you can safely and comfortably wear these contact lenses for seven days in a row. Typically, traditional silicone contact lenses either provide a high water content with a stiffer lens, or a softer lens with lower moisture content. Fortunately, Biofinity contacts can finally give contact lens wearers the best of both worlds. Not only do these lenses allow plenty of oxygen to reach your eyes, but the lens material is naturally wet and stays moist, soft, and resistant to both dehydration and deposits. With Biofinity Energys, you benefit from improved digital eye strain. Check out Biofinity Energys if you use computer regularly. Biofinity multifocal lenses are also available, as well as Biofinity Toric designed to correct for astigmatism.
If you find yourself dependent on wetting drops due to irritation and dryness, Biofinity contacts may be the perfect solution. Since each Biofinity contact lens is naturally wettable and composed of a unique lens material, you likely won't need to use additional wetting drops throughout the day. Through the Biofinity Aquaform Comfort Science Technology, Biofinity contacts are some of the longest lasting, most comfortable lenses available online or in stores.
Although these are monthly disposable lenses, they're approved by the FDA for up to seven days of continual wear. Whether you're on vacation or are extraordinarily busy at work, you won't have to worry about removing and sanitizing your lenses each and every night. At the end of the thirty days, toss the old pair of Biofinity contact lenses in the trash and replace them with a brand new pair. With no additives, coatings, wetting agents, or surface treatments, nothing will come between you and a more comfortable lens-wearing experience.
If you've been craving the flexibility and freedom of monthly contact lenses, try Biofinity's monthly disposable contact lenses. Since CooperVision Biofinity contacts are monthly contacts, they come in a pack with six lenses per box. If you purchase a 6 pack of cheap Biofinity lenses from Lens.com, you'll enjoy the guaranteed lowest price allowed by the manufacturer. In other words, you won't find Biofinity contacts online or in stores at a cheaper priceĖguaranteed!
Product Availability
This item normally ships within 2-4 business days.
Price Comparison
| Our Lowest Price | Retail Price | Your Savings |
| --- | --- | --- |
| $12.75 | $59.00 | $46.25 |
Material Content
52% Polymer (comfilcon A)
Frequently Asked Questions
How long can you wear Biofinity contacts?
All contact lenses in the Biofinity family are monthly replacement contact lenses. You can wear them continuously for up to 6 nights and 7 days, but you will need to replace them after 30 days.
Are Biofinity contacts good?
Biofinity contacts are high-quality contact lenses designed to provide you with excellent comfort and vision. Biofinity lenses are made with a unique silicone hydrogel material that enables you to comfortably wear them for up to 6 nights and 7 days. The material is highly breathable and maintains its moisture even during extended wear.
Bear in mind that there is no such thing as a best contact lens. However, if you have a problem with dry eyes, you may want to consider Biofinity contacts. Make sure you consult with your eye doctor so that you can determine which contacts are right for you.
Are Biofinity contacts better than ACUVUE?
One way to determine the quality of two contact lenses is to compare their specifications.
Here is a quick comparison of Biofinity and ACUVUE contact lenses.
| | Biofinity | ACUVUE |
| --- | --- | --- |
| Material | Silicone hydrogel | Silicone hydrogel |
| Replacement schedule | Monthly | Daily, bi-weekly, monthly |
| Eye conditions corrected | Myopia, Presbyopia, Astigmatism, Multifocal | Myopia, Presbyopia, Astigmatism, Multifocal |
| Key features | Natural moisture, high breathability, superior comfort | Breathability, high level of protection against UV rays (UVA and UVB) |
A majority of wearers report that Biofinity and ACUVUE products are comfortable and easy to wear. Both the Biofinity and ACUVUE are high-quality contact lenses. One isnít necessarily better than the other for all users. Itís a matter of which one is the best for your specific situation.
Do you prefer daily contact lenses because you want to avoid the hassle of contact lens maintenance? Or do you want to be able to sleep in your contact lenses? There are a wide variety of factors to consider in choosing the right contact lenses, and consulting with your eye care professional can help make that process much easier for you.
Are Biofinity contacts monthly?
Yes. These products in the Biofinity family are monthly replacement contact lenses - Biofinity, Biofinity Energys, Biofinity Multifocal, and Biofinity Toric.