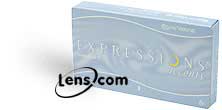 Expressions Accents
6 Month Supply

$36.95

$52.00 You Save $15.05

$34.99 Buy 2+ per eye $52.00 You Save $17.01
MONEY BACK GUARANTEE Complete Details

HASSLE FREE RETURNS Complete Details
Expressions Accents

Reviews
The Expressions Accents
The Expressions Accents contact lenses make my eyes look great! My real color is nothing special but when I wear these enhancers my eyes look gorgeous. The best part about these contacts is they look so natural. They really make it look like my eyes are actually the color of the contact lens. They are also so comfortable, I can wear them all of the time.
most comfortable color contact lens ever
The Expression Accent lenses are great enhancers! I have blue eyes and they're not that great but they are very vibrant when I use these enhancers. Its almost unreal! I get so many compliments when I wear these, I want to wear them all of the time! Its so nice to have a beautiful contact that is also comfortable!
Product Information
Expressions Accents are disposable contact lenses manufactured by CooperVision. Expressions Accents contact lenses not only enhance your eyes' natural color, they also allow you to enjoy incredible comfort and the best vision possible in a soft cosmetic lens. Whichever Expressions Accents lens you choose, you'll notice immediately that they feel as good as they look. They're an incredibly comfortable lens to wear, and a remarkably easy lens to handle. Choose from four exciting enhancement tints-blue, green, violet, and aqua.
Product Availability
This item normally ships within 4-7 business days.
Price Comparison
| Our Lowest Price | Retail Price | Your Savings |
| --- | --- | --- |
| $34.99 | $52.00 | $17.01 |
Material Content
45% Polymer (methafilcon A)